Ah where to begin your basement finishing or remodel project? That's the real question, and it haunted me for months.  This was the hardest part for me, and it took a lot of Googling, researching, and reading to realize the best plan of attack.  Every basement finishing project will be a little different, but in my experience it follows these basic steps:

As I said, the steps to basement finishing can be different for everyone.  For me, starting in a newly constructed home meant I didn't have to worry about basement waterproofing, mold removal, or repairing cracks.  But don't worry, I've created this site so that you can find all the resources you need in one place!  One of the most important steps can be preparing your basement properly, and if you don't follow the steps to waterproofing your basement or removing mold it can mean more money out of your pocket later. Through each step I'll do my best to post videos that I've made and pictures I've taken.  If I haven't gone through it myself, I'll post some great resources I've found on the topic.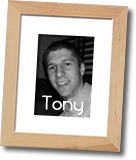 So it's as easy as that. If only I had it this easy… you owe me.
Godspeed,
Tony
Share This