For each area of my basement finishing projects I've created some before and after posts with pictures and explanations.  These have been some of my most popular posts, so I've created a dedicated page so you can find them easier!  I'm glad that these are so popular, I think it gives you some great ideas, but also highlights how great your basement can look if you do it yourself.
Each of these posts lay out the steps I took in each specific area and how they ended up.  Hopefully these offer some basement design ideas of your own, but also show you what you can get done when you put your mind to it!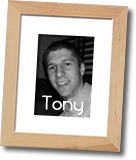 I hope these help inspire you and give you some great ideas for your basement layout.
Godspeed,
Tony
Share This