If you've read my page on drywalling your basement, you know that this is the ONE place I have decided to spend some money and hire a professional.  I spoke with two experienced home builders about this step, and they both recommended hiring a professional at this point.  Here are the reasons they recommended hiring a professional to hang the drywall and mud and tape the basement walls:
It's highly technical, almost an art form that comes with experience
If you do it on your own and don't do it well, you WILL see it in the finished product
The professionals will take 10-20% of the time it would take you
I'll be honest, I feel I really can do anything if I set my mind to it.  And while I feel I could have done a good enough job, numbers 2 and 3 worried me the most.  While I do recommend a professional at this step, I really feel that if you have the motivation to save the money and learn how to do it properly, you can probably save in the neighborhood of $2,000.  I have a 1,000 square foot basement and I spent $3,700 on hiring a contractor to hang drywall, mud, tape, and texture the basement.
How you make that decision and what you would use that extra money for is a decision you'll have to make.  If you do decide to take the time to do it on your own, I do have some great resources for you.  Here's a series of one of the best videos I've seen on what tools you'll need and how to do it yourself.
This video covers initial mixing of the compound and your first coat of mud and tape:
This video gets into the tools you'll need and your next coats to "feather" the joints:
This last video covers sanding and finishing your job: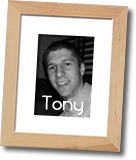 If you decide to tackle mudding and taping, PLEASE leave some comments below. I want to hear how things went.
Godspeed,
Tony
Share This