Thankfully tackling a waterproofing or mold removal project was not on my list of to-do's before finishing my basement. If you're in this situation I've done my best to gather a list of helpful links and videos from websites and professionals that I trust.
Proper preparation is probably one of the most important steps in beginning your basement finishing project. This is probably the time you'll want to do a radon test as well to be sure the space is completely radon-free. 1 in 15 houses have a radon issue, so don't get stuck being the 1 in 15 that doesn't get a test. I performed my radon test after I finished framing, but I just went to Home Depot and grabbed a do-it-yourself kit for only $10. I'm still waiting on the results from the lab but I will update and let you know how it went.
Basement Mold Removal:
Links
– DIY Forums – Mold Removal
Videos
– Mold or Efflorescence? – Explanation Video

Basement Waterproofing:
Videos
– This Old House – General Contractor Tom Silva – How to Waterproof a Basement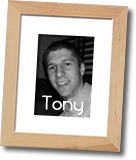 Best of luck on preparing your basement to be finished. I can't stress it enough, but DON'T skip this step! You don't want to spend a lot of money finishing off a great living space only to have it turn into a money pit down the road.
Godspeed,
Tony
Share This