For each area of my basement finishing projects I've created some start-to-finish posts.  Each of these posts lay out the steps I took in each specific area and how they ended up.  Hopefully these offer some basement design ideas of your own, but also show you what you can get done when you put your mind to it!

My basement home theater (along with the VIP shower) became sort of the focal point of my basement finishing project. It was a huge motivator for me and one of the main reasons I decided to finish the basement off in the first place.

This post highlights my start to finish photos, but I also wanted to include some specifics on my home theater choices. I love to geek out so please feel free to comment with any questions ab0ut why I decided to go with what I did. Better yet check out my Home Theater Forum page and get signed up, post topics, pictures, and questions about your home theater project.
At the end of the day here are the decisions I made for my home theater:
Projector: Epson 5010 UB
Screen: 135″ Vapex Fixed Frame Screen
Speakers:
– Front Left-Right Speakers: Pioneer Elite S-IW871-LR In-Wall
– Center Speaker: Pioneer Elite S-IW571L In-Wall
– Rear Surround Speakers: Pioneer SP-BS21-LR Bookshelf
– Rear Left-Right Speakers: Pioneer Elite S-IW671-LR In-Wall
Subwoofer: BIC America F12
Receiver: Yamaha Aventage RX-A820
Are you planning a DIY home theater project? Do you have questions about your home theater setup? Hit the comments below or better yet JOIN MY HOME THEATER FORUM! There you can post any number of topics or questions about home theaters. I've started a new section just for home theater pictures where you can brag about your home theater setup.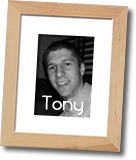 I'm always willing to share specifics on my home theater including screen, projector, light setup, or whatever your home theater-crazed mind wants to discuss!
Godspeed,
Tony