Hey gang, Tony here.  Your shining light in the darkness that is now your unfinished basement.  Your Jedi master to train you up in the ways of the plumb bob.  I can feel the force is strong with you.
Looking to finish a basement on your own?  How about tackling DIY projects to improve home value or for personal satisfaction?  This website just might set you on the right path or offer some inspiration at the least.
If you're like me, you're researching as much as possible for anything you can find on the topic of finishing a basement.  It seems like everywhere you look has some information, but not ALL the information, and it starts to seem a bit daunting.  A good video on soffits here, a nice tutorial on wiring there, but it's not all in one place and you start to go crazy!  Rest assured, if a novice like myself can get it done, so can you.
I want to start by saying I had no real experience whatsoever when starting my basement finishing project.  My family and I were moving into a foreclosure and saving money was top-of-mind.  Obviously finishing the basement on our own was a logical first step to keeping costs low while creating a great living space.

Hopefully the steps to finishing a basement you'll find on this website will help you get started on one of the most rewarding DIY projects I've ever been a part of.
Steps to Finishing A Basement
This was the hardest part for me, and it took a lot of Googling, researching, and reading to realize the best plan of attack.  Every basement finishing project will be a little different, but in my experience a basement finish will follow these basic steps:
As I said, these steps can be different for everyone.  For me, purchasing a fairly new home meant I didn't have to worry about waterproofing my basement and repairing cracks.  But don't worry, I've created this site so that you can find all the resources you need in one place!  Through each step I'll do my best to post videos that I've made and pictures I've taken.  If I haven't gone through it myself, I'll post some great resources I've found on the topic.
My Basement Finishing Experience
Zip, zero, nada.  I had never framed a wall, ran ductwork, or any sort of electrical wiring experience EVER!  I was completely motivated by saving money and the ability to design and finish my basement on my own.  The one thing I did have was a father-in-law with a lot of tools.  If you know anyone with access to tools, use them.
Finish Your Basement
That's right, you're going to finish your basement.  Go ahead, say it  out loud.  Now turn to your wife and say it again, with a little gravitas.  "I'm going to finish my basement!"  If she gives you the "you're insane" look, I'd follow it up with a "you know how I do."
You might be doubting yourself, as I first did when deciding to tackle what I thought to be a monumental DIY project.  You might be asking yourself, can I really do this on my own?  Let me help you out… that's a clown question bro!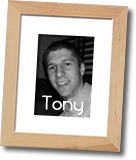 You CAN finish this basement, you WILL finish this basement, and you MUST do a small victory dance in front of your family while standing in the finished basement of your dreams (all victory dance videos accepted).
Godspeed,
Tony
Share This