The painting, staining, and flooring steps in finishing your basement are crucial to creating a great living space while maintaining good flow throughout the basement. There's really only one question you need to answer before you tackle this step, "Does it work in this space?".
The one lesson I've learned is that you just can't go wrong with neutral pallets when picking colors. Why go bold when you may regret it? Stick to the basics and you'll be happy, as will any possible home buyers in the future. A wrong or funky color choice in your walls or flooring can possibly even decrease the value of some rooms, don't make that mistake.
That being said, there are times when getting creative and breaking the norms can be the best option. Here are some creative ways to paint, stain, and floor your basement space that are great options:
1) Stain your concrete
– Why deal with carpeting, hardwood, and other options when staining your concrete can look just as good
2) Wallpaper
– This can be a great option if you choose the right wallpaper on the right walls, but don't go overboard!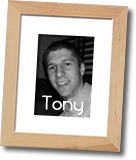 Check out my start to finish posts to see what paint, stain, and flooring choices I went with in the end.
Godspeed,
Tony
Share This