For each area of my basement finishing projects I've created some start-to-finish posts.  Each of these posts lay out the steps I took in each specific area and how they ended up.  Hopefully these offer some basement design ideas of your own, but also show you what you can get done when you put your mind to it!

The spare basement bedroom is now complete! Take a look at the before and after photos here. I didn't have many photos of the basement before all the walls were framed out, so it's fun to look at these photos and see the bedroom and bathroom walls just laid out with 2X4's on the floor. You can see in the first photo, but the spare bedroom required the door to be hung on a 45 degree angle and is actually supported by a soffit covering the HVAC running on the ceiling.
Finishing your basement is a great project, and it can raise the value of your home incredibly. If you're thinking about adding a spare bedroom, I hope this post gave you some inspiration to begin your basement finishing journey.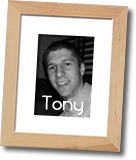 If you have any questions about this project specifically, please feel free to comment below.
Godspeed,
Tony